Seven years ago today, an Indian schoolboy smashed an unbeaten 1,009 off 323 balls.
Then-15-year-old Pranav Dhanawade from KC English High School broke the record for the highest individual score in an innings (held by English cricketer AEJ Collins, who scored 628* for Clark's House against North Town in 1899).
When Dhanawade ended day one of the two-day U16 match against Arya Gurukul School, he had scored 652 off 199 balls with 30 sixes and 78 fours. The team was on 956-1 in reply to Arya Gurukul's first innings score of 31 all out in 20 overs. Teammates Akash Singh had scored 173 and Siddhesh Patil 100.
On day two, Dhanawade, the son of a rickshaw driver, ploughed on to 1,009 (59 sixes and 129 fours) as the team racked up 1,465-3 before finally declaring.
Arya Gurukul School were then bowled out for 52 to lose the match by an innings and 1,382 runs.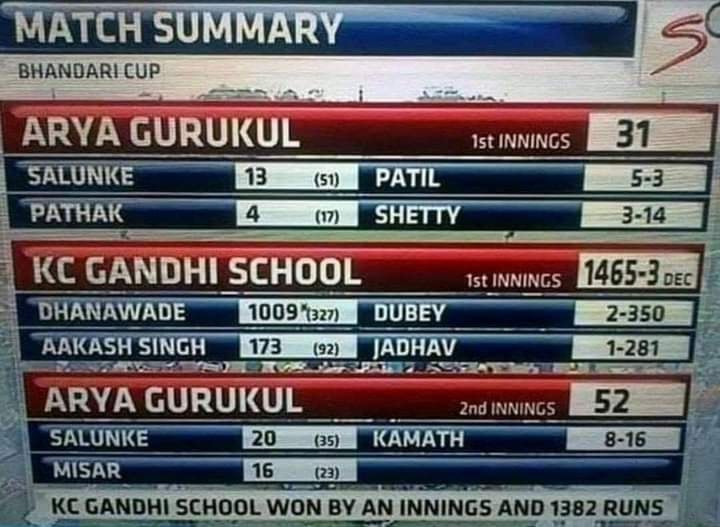 'That was special. I have never seen something like this," Arya Gurukul School coach Yogesh Jagtap said of Pranav's innings.
"Yes, the ground may be small and he was dropped quite a few times by my players, but credit to him for the way he played."
Dhanawade later missed out on Mumbai U19 team selection, which he said was because of his inconsistency.