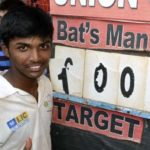 Seven years ago today, an Indian schoolboy smashed an unbeaten 1,009 off 323 balls.
Whatever happened to Pranav Dhanawade? Who? The 15-year-old boy who scored 1,009 runs in an innings, two years ago.
Pranav Dhanawade, who scored 1 009 not out for his side KC Gandhi in June 2016, was arrested in Mumbai in December.