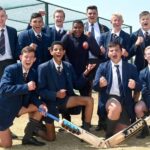 Hoërskool Die Anker crushed Springs Boys' High School by 698 runs in a 1st XI 50-over match last Saturday.
Four schools remained unbeaten at the Independent Schools Cricket Festival at St Alban's College, writes THEO GARRUN.
St David's Prep hosted eight U12 'stayers' teams in a festival of cricket over the weekend which saw the teams play a 50-over game, a 10-overs a side carnival of cricket and a T20 game, writes THEO GARRUN.