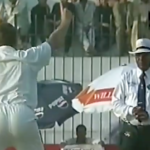 Australia fast bowler Glenn McGrath was left gobsmacked when this lbw decision went against him in Pakistan.
Dennis Lillee will be turning in his old age home if he's been reading the recent comments by Jimmy Anderson and Glenn McGrath complementing each other in the media.
Writing in The Daily Mail, former Aussie paceman Glenn McGrath backs Jimmy Anderson to reach 600 Test wickets.