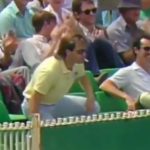 This fan catch from 1987 is a contender for the coolest of all time.
President Cyril Ramphosa has lifted various Covid-19 restrictions that will allow stadiums to operate at 50% capacity.
An Aussie cricket fan drew huge cheers when he sculled his beers at the Adelaide Oval. But another fan was less successful during the night session.