New Zealand's Daryl Mitchell says he will play at the T20 World Cup despite fracturing his hand last week.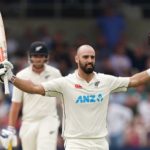 Daryl Mitchell broke a 73-year-old record for the most runs by a New Zealand batsman during a Test series against England while making 109 at Headingley on Friday.
Daryl Mitchell on Wednesday said his father in the stands would have been "chuffed" as he led New Zealand to a five-wicket win over England in a thrilling T20 World Cup semi-final.