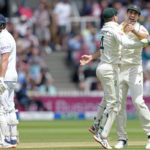 Australia's Alex Carey insists he would have no qualms over repeating his controversial stumping of Jonny Bairstow.
Alex Carey says it is "a boyhood dream" to be Australia's wicketkeeper for the first two Ashes Tests against England.
Alex Carey looks poised to replace Tim Paine as Australia's Test wicketkeeper and make his debut against England in Brisbane.