South Africa's seemingly never-ending search for a genuine Test all-rounder continues, writes RYAN VREDE.
I've advocated for investment in Wiaan Mulder in Test cricket. I'd seen enough of him in domestic four-day cricket and heard enough coaches and teammates speak highly of him to support my instinct that he was worth that investment in a Test context. 
On the surface, he appeared to be more technically sound than Vernon Philander, who averaged 24 with the bat and who'd competently occupied the Proteas' No 7 role until he retired in 2020. 
Philander held the space in a manner that diminished concerns around the all-rounder role, a role that, until his emergence, had been a point of great pain for many in the South African cricket fraternity. 
Mulder, it appeared, was Philander's ready-made replacement. A consistently strong domestic performer, with an impressive average of 33, built partly through five centuries and seven half-centuries, most of which came before his 23rd birthday.
But he has looked like an impostor on the Test stage. He has taken 15 wickets in 17 innings – a decent return considering he is largely a fourth-change option and is often asked to do a holding job.
It's his batting that vexes most. An average of 13 betrays his immense talent. I felt for him as TV cameras trained on him as he sat, still fully padded up, in the dugout at Kingsmead. He'd knicked off the first ball and it looked as if he knew that this phase of his Test career was over.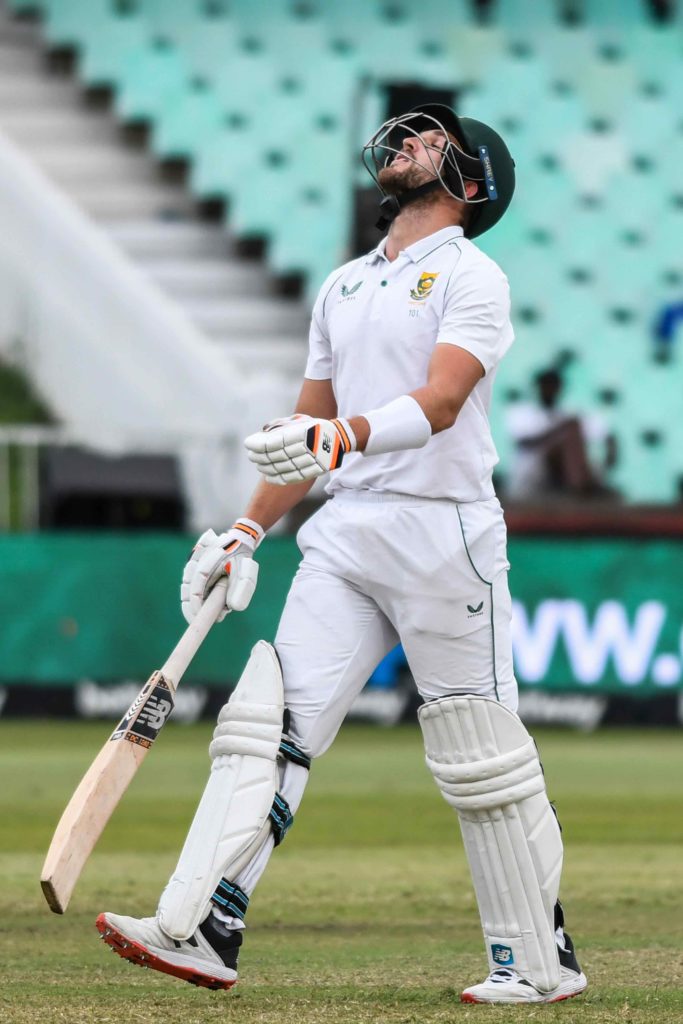 He was then dropped twice on zero in the second innings. Some players make those defining moments by going on to get a score that saves their career. Mulder never looked capable of that. It was only a matter of time before he succumbed to the mental turmoil that had gripped him. His retreat to the pavilion felt like an act of mercy. 
There can be no legitimate cricket reason offered for his retention in the second Test. Mulder needs time to refine his game (technically and mentally) in domestic cricket. There is no shame in this. Some of the game's greats have needed it, Hashim Amla among them. 
Mulder would likely have missed the Test series if Marco Jansen, the new great hope, had been available.
Jansen has made an immediate impact with the ball, his left-arm gas offering the Proteas attack a dimension they've lacked in recent years. Yet he, too, has not been thoroughly convincing at the crease. There were glimpses of his batting talent during his eight Test innings to date. Yet, one can't say with any conviction that Jansen is the missing piece in this puzzle. Time will judge him. 
ALSO READ: Jansen on fast track to success
Beyond Jansen and Mulder there is Dwaine Pretorius. I've written extensively about him being a valuable asset across all three formats. But he averages 13 after six Test innings. It seems unfair to make any absolute judgements on his batting competency at such an early stage, but at 31 years old (as he was at the time of his last Test) and with more than a decade of first-class experience, he should be held to a higher standard than kids like Mulder or Jansen. 
The No 7 spot has taken on added importance as wicketkeeper Kyle Verreynne establishes himself in Test cricket and, hopefully, finds the type of consistency that marked his domestic performances. 
Beyond spinners who can hold a bat (the Proteas are stocked in this regard), there are no all-rounders in domestic four-day cricket pressuring the aforementioned trio. It, therefore, feels like there are too many eggs in the Jansen basket. 
This is concerning, but those concerns can be somewhat eased by greater investment in the batting abilities of Simon Harmer, Keshav Maharaj and Kagiso Rabada.
Rabada, in particular, has massive growth potential. It is criminal that he averages just shy of 12, and has no Test half-centuries. Rabada is a 23-25 talent and anything less should be considered a personal and coaching failure. 
This Test season has brought with it more positives than it has negatives, but there are still pressing issues that must be resolved if the Proteas want to elevate themselves to the format's top two and stay there.