South African cricket needs the mercurial-like, game-changing prowess and thinking of a Jonty Rhodes, writes GASANT ABARDER.

It's quite a novelty having to explain to our waiter who Jonty Rhodes is. The fellow is just 21 and Jonty isn't in his frame of reference.
I show him the image of that run-out in the 1992 World Cup against Pakistan, play him the YouTube clip and pronounce Jonty as the GOAT.
The waiter shrugs his shoulders. It sparks an analogy where I say Messi is his GOAT while Maradona is the real GOAT – to which he shakes his head furiously.
Jonty laughs and says: "Ah, kids these days!"
It is true that in 1992, Jonty was my GOAT and made me fall in love with cricket. I still know the theme song of that edition of the Cricket World Cup. 'The world is coming Down [as in Down Under for Australasia], the flags are up …'
I was 14 and in Standard 7. For those few weeks, I didn't get much sleep as the matches began in the wee hours of the morning.
Jonty is a modest guy and I have to remind him why he is such a trailblazer beyond the modular actions of batting and bowling. Throughout our conversation, he mentions his average batting and his batting average.
So much was going on in our country at the time. All eyes were on our cricket team for the cricket but also for their very important gesture of voting yes in a referendum to open the door to a new democracy.
In as much as that gesture by Jonty and his teammates had far-reaching implications for our world, that run-out changed the way fielding was regarded.
It is not an exaggeration to say Jonty was picked purely on the difference he made in the field. Saving 20 runs in a bowling effort often meant winning the game by fine margins (not to mention telling contributions with the bat as well because he didn't care about personal stats but the team's fortunes).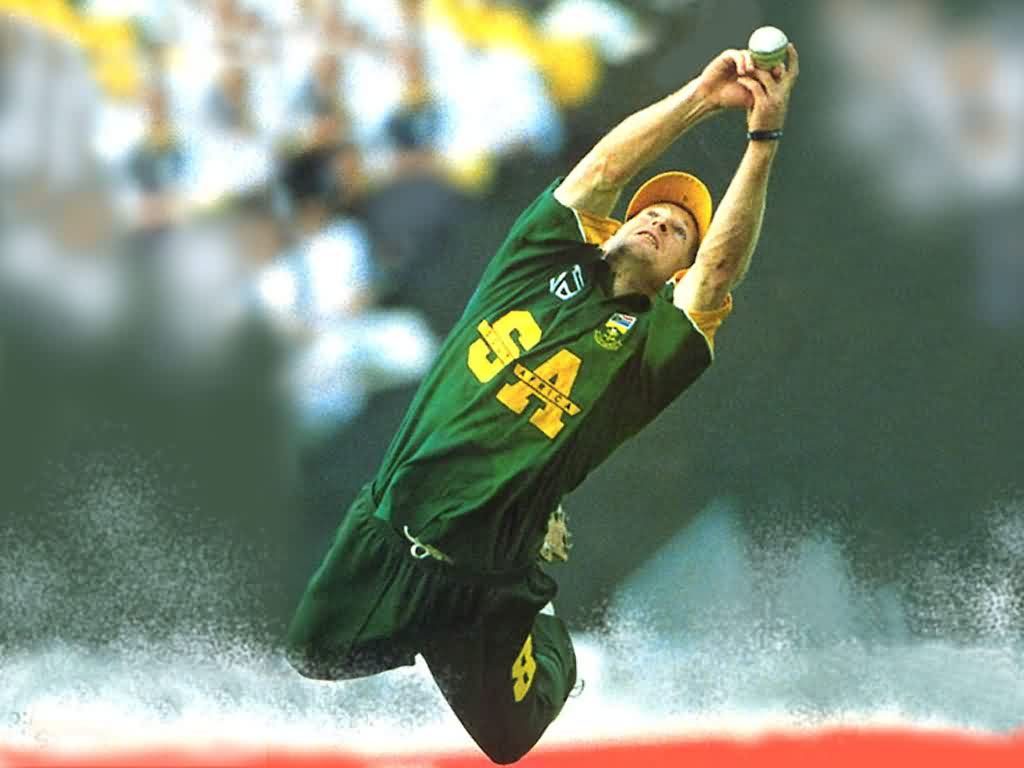 I would later meet Jonty as a rookie reporter at Newlands on the grass embankment below the player changing rooms. Jonty had just retired and was working for Standard Bank to bring T20 cricket to South Africa – among the first countries to adopt the format into its domestic first-class competition.
Some 30 years after that famous run-out and an iconic image that put cricket on the front pages of newspapers around the world, Jonty is on the coaching staff of the Durban Super Giants franchise competing in the new SA20 competition. We're just hours away from a clash against MI Cape Town, at Newlands.
Jonty has just returned from doing TV commentary on a forgettable tour for the Proteas in Australia. I ask him what is wrong with our cricket at the moment.
'I don't want to criticise because I would then be asked what I my view of the solution is. I don't know enough about the Cricket South Africa set-up to say too much,' he says.
Jonty has spent a lot of time in India in the IPL as a specialist coach. He also had a stint in Sweden with women's cricket. He says he is puzzled that while diversity should be our strength, it appears that those who run cricket in our country use it as a weapon and only succeed in further dividing the public.
"Will we ever win a World Cup?" I ask Jonty, who heartbreakingly came so close with his teammates in that 1992 semi-final.
"Maybe, never," he says. "It feels like Karma."
Jonty's reasoning is that until South Africa does right with all the talent at its disposal he doesn't see it happening. Rugby has started getting it right, he agrees.
One of the reasons Jonty invited me for a chat – apart from asking for a signed copy of my book Hack with a Grenade – was to find out more about the extraordinary happenings at Hanover Park Cricket Club.
"How is it that a club based in a community with so many challenges makes three T20 league finals at Newlands in five seasons?" he asks.
"And that is where I think the focus should be. Imagine they are supported and helped with resources, what they can achieve. That is what needs to happen in our cricket."
Jonty says he would ask his mate Simon Katich from MI Cape Town to reach out to Hanover Park Cricket Club. He is of the opinion Hanover Park has something that cricket in our country would do well to replicate.
It is the mercurial-like, game-changing prowess of a Jonty that appears to be missing from our cricket team right now. It is the mercurial-like, game-changing thinking of a Jonty that appears to be missing from the boardroom that runs cricket right now.
Waiter, may I order another Jonty run-out, please?