If you've ever wondered whether you can wear contact lenses to play sport, the resounding answer is yes!
In fact, optometrists recommend contact lenses for sports because they are safer, and spectacles are not allowed when playing professional rugby, boxing, and football because the risk of injury is too high.
Contact lenses offer several advantages, aside from increased clarity of vision when compared to prescription spectacles. These include:
Visual acuity
Contact lenses help improve the visual acuity of an athlete. Take cricket for example a batsman with clear vision can easily see the ball come out of the bowler's hand and land on the pitch and identify changes near the boundary line, all while keeping their eyes on the ball as it meets the bat. Similarly, in other sports, athletes can easily keep an eye on the sails, the stepping mark in long and triple jump, and the far side of the court in tennis.
Better peripheral vision
Contact lenses offer a complete field of view, which spectacles cannot. Having impeccable peripheral vision is crucial in team-based sports, in which athletes are required to maintain awareness about the competitors' and teammates' positions. In rugby, for example, the players need to be aware when a tackle is coming. Similarly, in football, defenders need to always keep the opposing forwards in sight.
No distractions
Prescription spectacles have lenses that fog up, accumulate dust, and get caught on equipment and clothing. They also tend to slip down the nose when the wearer starts to sweat and, if you're playing sport on a rainy day, you need to constantly wipe water drops off your lenses. Contact lenses remove all these distractions and allow you the freedom to keep your eyes on the prize.
Better depth perception
Depth perception is a crucial skill for athletes, particularly in ball sports and archery. In the case of spectacles, athletes can find it difficult to judge distance accurately for several reasons, such as the thickness of lenses and the distance of the objects from the eye. Contact lenses have an ultra-thin design, creating no minification or magnification like glasses. Instead, contact lenses rest directly on the eye, thus creating correct depth perception.
Less risk of eye trauma
Injuries are inevitable when you're a keen sportsperson but falling is a lot less dangerous when glasses are out of the picture. Wearing contact lenses for sport can save you from potential trauma, as you don't risk shattering the lenses and causing eye injuries.
Accommodate additional head gear
Sunglasses are vital for outdoor sport and wearing contact lenses means you can wear them without having to buy prescription sunglasses. Additionally, some sports require protective goggles or helmets, and these are easier to wear when you're not wearing unwieldy specs.
Contact lenses don't like water
Water sports are the one exception to the rule. When playing a water sport, you should not wear contact lenses because contact lenses sit directly on the eye, and water can become trapped between the lens and the eye. This can lead to infections and potentially permanent damage. Please consult your optometrist if you are considering swimming with contact lenses.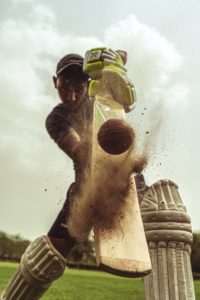 Convenient contact lenses can help optimise your sports performance and enjoyment. There are different types of contact lenses to suit every type of eye and lifestyle. Toric lenses correct astigmatism, daily contact lenses are perfect for those who are prone to eye infections or prefer the convenience of not needing to worry about their cleaning and storage, and monthly contact lenses are a great compromise between daily and permanent lenses. 
Contact Lens Club offers the lowest prices guaranteed and is medical-aid-approved. Plus delivery is free on all contact lens brands, taking the hassle out of keeping your lens stash on hand. Simply log on to contactlensclub.co.za, select the brand of lenses you normally use and your current prescription, provide your delivery address and pay, and expect your lenses to arrive within a few days. Lenses can only be ordered with a valid contact lens prescription, which cannot be older than two years. If your prescription is older than two years, please schedule an eye test at any Spec-Savers or Execuspecs store.
Photo: Unsplash